C.L. Hollis Insurance represents one of the best Classic Car Insurance Specialists in the industry. Take a look at our specialized coverages below.
Emergency roadside assistance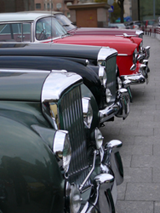 Client gets the only full-service roadside program designed specifically for classic cars — and the only program that guarantees a flatbed with soft straps on every tow:
All calls answered by specialists trained in the specific needs of collector vehicles
Guaranteed flatbed towing and other roadside assistance 24/7 throughout the U.S. and Canada
Unlimited service requests for flatbed towing, lockouts, battery jumps, tire changes and emergency fuel delivery
Guaranteed Value
The term Guaranteed Value* has replaced Agreed Value on new quotes and policies.
Agreed value is a phrase that many clients find confusing. We feel that Guaranteed Value better describes what type of policy you expect. Once your vehicle value is set, your guaranteed to receive the full insured amount in the event of a covered total loss, with no depreciation.**
Vehicles under Restoration Coverage
The process of restoring a collector vehicle is in some ways more a part of the hobby than it is to drive them. As collector car owners you will spend hundreds of hours researching, locating parts, buying and working on your car. And typically before you are even done with the project you could be planning your next vehicle. Every collector car has been or probably will be restored to some degree.
For an annual cost of $20 per vehicle, this coverage includes:
Quarterly Value Increases
Added Coverage for Tools
Convenience Towing
We are your Classic Car insurance specialists.