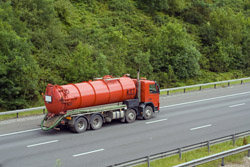 At C.L. Hollis Insurance, we make your purchase of business insurance as easy as possible — and that includes commercial auto insurance.
With auto coverage from C.L. Hollis Insurance, you get the convenience of having the broad protection your business needs in one policy at a competitive price. C.L. Hollis Insurance offers protection such as liability coverage for Injuries or damage you cause to others, as well as damage to your autos. We offer a variety of enhancements into the policy to better protect your business.
Why choose C.L. Hollis Insurance to provide your company's auto protection?
We add coverages that may be especially valuable to your business.
Our latest enhancements include:
Hybrid, electric or natural gas vehicle payment — If a non-hybrid auto is deemed a total loss and is replaced within 60 days by a hybrid auto or an auto powered solely by electricity or natural gas, our detailed policy will pay an additional 10% of actual cash value, up to a maximum of $2,500.
Hired auto physical damage — If you purchase physical damage and liability coverage for your owned autos, C.L. Hollis Insurance detailed coverage even covers physical damage to any auto your company rents, loans or leases, up to $100,000 per loss.
Lease or loan gap — If your auto is a total loss and your outstanding lease or loan balance is greater than actual cash value, we can add coverage to pay the difference between the outstanding balance and ACV, as long as physical damage coverage was elected.
Vehicle wrap coverage — If your auto is a total loss, we can add coverage for vinyl vehicle wraps displayed on your vehicle at the time of the loss.
Corporations and LLCs — Your policy's Named Insureds include corporations and LLCs that are your subsidiaries or that you newly acquire or form.
Umbrella coverage — Some of the largest losses that businesses suffer are a result of auto accidents. If you have employees on the road using your or their own autos to conduct business, your company is at risk. With our umbrella policy, you can avoid coverage gaps and costly overlaps.
Claim service — You can count on C.L. Hollis Insurance to provide fast, efficient claim service. And through our relationship with qualified auto repair shops across the country, you can obtain quality car repairs that are guaranteed for as long as you own the auto.
Loss Control service — To help reduce accidents, C.L. Hollis Insurance Loss Control services assist businesses to effectively evaluate and mitigate those risks. We can also help your business manage fleet risk and lower operating costs. In addition, your business may be eligible to receive a discount of up to 25% on your auto insurance premium.
It's our business to protect your business. When you Choose C.L. Hollis Insurance, you get comprehensive coverage, knowledgeable professionals and the peace of mind that comes from knowing your business is covered by an Agent with more than 35 years of experience.
Remember: If your business insurance needs also include property, general liability, workers' compensation, marine or management liability coverage, C.L. Hollis Insurance can help.