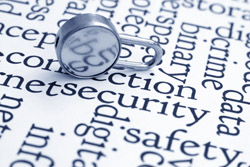 C.L. Hollis Insurance Agency is your local expert connection for Cyber Liability Insurance coverage. Providing the basic liability coverage necessary for any company that relies on computer networks to run its business. Admitted coverage designed for small to mid-size companies. C.L. Hollis Insurance provides cyber coverage when a security breach results in privacy injury; identity theft; network damage resulting in theft of others' information in your care, including trade secrets; and infection of others' networks. These policies also cover costs to comply with applicable laws requiring you to notify customers or users if a security breach could potentially compromise private information.
Privacy Laws
Until recently, the landscape of privacy laws included two types of laws. First, there were breach notification laws at the state level. These laws set forth requirements for notifying clients and mitigating damages in connection with disclosure of personal private information. Second, there were federal "duty to safeguard" laws that generally applied only to certain industries, for instance, the HIPAA Privacy Rule in healthcare and the financial privacy requirements of Gramm-Leach-Bliley.
Now, however, a new wave of laws is raising the stakes on protecting client information. Massachusetts recently enacted laws requiring businesses to proactively employ certain minimum safeguards. If your business has personal data from anyone living in Massachusetts, the laws will apply.

It is also worth noting that while the federal "duty to safeguard" laws apply to specific industries, these new laws apply broadly. Any business that accepts credit card payments or has custody of any other personal private information is subject to their requirements.
Any business not making a serious effort to protect personal private information is seriously out of step with the emerging landscape of privacy law.
Personal private information generally means: individual's name in conj. with:
Social Security Number
Driver's license number
State issued ID number
Financial account number
Credit or debit card number
Personal ID or password
Why should you invest in Cyber Insurance?
The peace of mind of knowing you have the insurance coverage needed to help pay for certain response expenses necessary to comply with notification regulations and to help avoid potential lawsuits that might be brought against you as the result of a breach.
The confidence that services are available to help mitigate any damage to their business' reputation and help quickly restore any loss of customer, patient or employee trust.