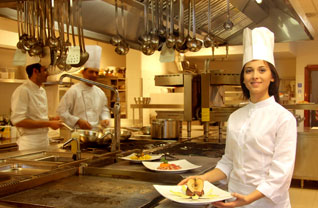 Restaurants are quite different from other organizations, and therefore face many different and unique kinds of exposures to loss. C.L. Hollis Insurance Agency in conjunction with many of its industry partnered relationships, has developed highly specific risk analyzation techniques aimed at minimizing your losses from areas you may never have considered.
C.L. Hollis Insurance Agency is your local expert connection at designing insurance coverage for the Restaurant Industry. We have many years of experience in providing tailored insurance coverages for your industry. In making sure your insurance coverages are complete, cost-effective, and convenient, we've left nothing to chance. Beyond the core policy of our Restaurant program, we offer expanded options aimed at covering just about everything:
› Employment Practices Liability
› Hospitality Services Errors and Omissions
› Comprehensive General Liability (Primary Limits $2,000,000)
› Medical Payments for Restaurants
› Broad Form Vendors
› Product Recall Expense
› Global General Liability
› Liquor Liability
› Umbrella Limits up to $20,000,000
› Workers Compensation Broadening Endorsement
› Sewer Backup
› Valuable Papers
› Other States Endorsement
› Accounts Receivable
› Outdoor Property
› Broadened Building and Business Personal Property
› Business Income & Extra Expense
› E-commerce
› Equipment Breakdown
› Crime Coverages including Employee Theft, Forgery & Money & Securities
› Key Replacement & Lock Repair Coverage
› Lease Cancellation
› Property In-Transit/Off-Premises
› Seasonal Increase
Let's cook something together
C.L. Hollis Insurance provides coverage for Restaurants, Banquet Halls, Liquor Stores, Taverns, Bars & Nightclubs, and Hotels.