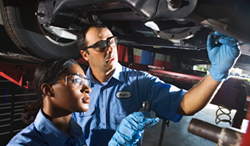 Finding the right insurance program takes teamwork. C.L. Hollis Insurance will match the best pricing and create the Automobile Insurance Program designed exclusively for your vehicle.
At C.L. Hollis Insurance We are Experts at Putting The Plus In Repair Shop Protection. We've analyzed the unique needs of your trade and put together a complete insurance package designed to keep your operation running smoothly.
Check out our advantage coverages:
→ Fuel Storage Tanks and Pumps – Above or below ground gasoline, diesel or Kerosene fuel tanks and pumps added to building coverage.
→ Fuel Held for Resale – Gasoline, diesel or kerosene fuel held for sale in storage tanks added as Business Personal Property.
→ Business Income and Extra Expense – Loss of income and extra expense incurred on actual loss sustained basis for up to 12 consecutive months.
→ Credit Card Slips – Covers sums due you resulting from loss or damage to credit card slips.
→ Liability and Physical Damage Coverage – For your owned autos and service vehicles.
→ Hired and Non-Owned Automobile Coverage – Liability coverage for hired or non-owned vehicles used in connection with your Business.
→ Garage keepers Legal Liability – Provides comprehensive and collision for vehicles left in your care, as well as fire, theft, vandalism and malicious mischief when you are shown to be liable for such damages.
Our team can help tailor a comprehensive program to meet your exact needs and budget. We can also provide an in-depth risk management solution that will help you avoid pitfalls in the first place and help lower your premiums. We'd be happy to assist in all your insurance needs, review current policies, and design a comprehensive insurance program that keeps your business well protected, lowers your risks, and lets you sleep peacefully.