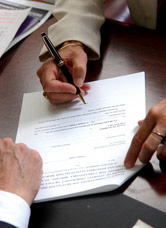 C.L. Hollis Insurance Agency has partnered with the best insurance companies in the industry and professional liability insurance isn't just smart — it's a necessity. That's why C.L. Hollis Insurance offers a full suite of professional liability insurance policies to give you or your organization an added layer of protection for your specific exposures as they say "exposure is not always a good thing."
Minimize your exposure to damaging claims with protection you can count on. All coverages and services may not be available for all businesses or in all states.
Accountants Professional Liability
Designed for private accounting firms including CPAs, public accountants, enrolled agents, tax preparers, bookkeepers and other accounting professionals.
Cyber Liability
Even the most traditional "brick and mortar" enterprise relies on technology for day-to-day operations. Protects information assets from a variety of risks including computer viruses, malicious code and hardware theft. To make sure businesses can continue their day-to-day operations and run smoothly.
Home Inspectors Professional Liability
Designed for residential home inspector firms with. The program provides coverage which can be customized to the specific needs of each home inspection firm.
Lawyers Professional Liability
No two law firms are alike. And we understand that a sole practitioner has different coverage needs than a much larger firm. That's why our partnered companies have developed three different professional liability products to meet the needs of any size firm.
Miscellaneous Professional Liability
Errors and omissions insurance has become an increasingly important component in almost every business transaction. Managerial decisions to award contracts are often contingent upon the presence of professional liability insurance.
Real Estate Professional Liability
Provides a solution for the Real Estate Errors and Omissions. The C.L. Hollis Insurance agency offers coverage for small to mid-size real estate firms.
Contact CL Hollis Insurance so we can handle all of your Professional Liability Protection.